ERP stands for Enterprise Resource Planning. Its core process is to manage business activities and integrate data into the company's operation, supply chain, finance, commerce, human resource and manufacturing sector. ERP manages the everyday activity of a business using the latest and upgraded technologies in ERP software. Nowadays, it is an integral part of every business, from small to large. It provides accurate data from a single database to increase productivity, precise decision making and improves enterprise efficiency.
ERP is a software application designed to integrate business activities within a single database. It integrates the core functions of a business to analyze, plan, process and report results in improved productivity and use of more technology in investment.
Integration. Incorporating all the functions in each area of business is essential to accelerate workflow and productivity. Data Analysis is a core process for every activity which delivers the right decision on time. Automation helps to mitigate manual work processes and reduce errors. Reporting is the facts and it is the result of business operation. It helps to look at what needs and what has to be cut off in business. Tracking and Visibility in ERP help to track and understand business metrics.
Three main types of Deployment ERP Platform are Cloud, On-premise, Hybrid.

There is a public and private cloud way of deployment. The software server runs on a cloud computing platform where the provider maintains it.
The software servers are implemented and maintained in the office space of an Organization. It needs an in-house IT team as they get ownership of the version.
This is a two-tier ERP. It helps companies who want a mixture of both to meet their companies requirements. It helps to store some databases on the cloud and others on on-premises.
ERP from the employee side
When an organization implements an ERP system, it needs specialized and trained professionals to operate the solution. ERP software gets an update regularly, and various versions of software modules are emerging in the market. Hence, there is always a need for Experts in Enterprise using ERP systems. ERP software makes it easier to generate planning charts, table analyses, reports and so on. They get data from another department of an organization with their ERP software.
ERP system consists of various modules where each deals with specific functions of the business. ERP systems deliver accurate databases by collecting data from each module.
Here overall modules are categorized into 5 Modules which are given below:
Business – Business modules are Sales, CRM, Marketing Automation, Business Intelligence and Distribution module.
Finance – Finance management contains Accounting, Purchasing, Payroll management modules.
Human Resources – As it is considered one of the core modules, it integrates with the Recruitment and Workforce management module.
Supply chain – SCM integrates with Ordering, Warehousing and Logistics management.
Manufacturing – Productivity management modules integrate with Inventory management, Material management, Sourcing and Quality Control management.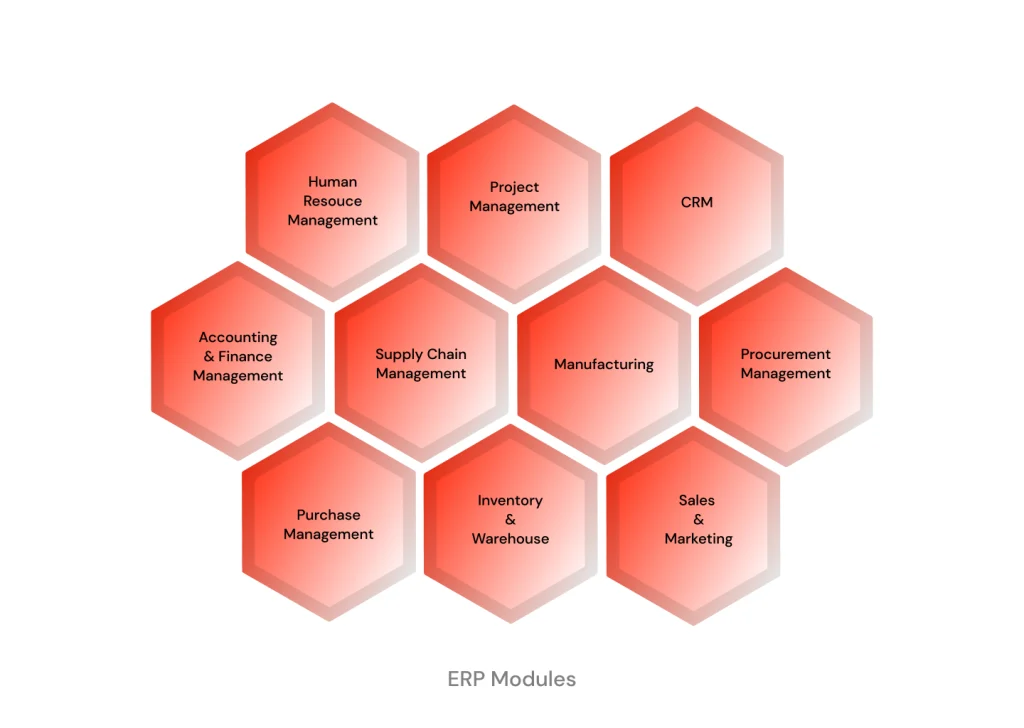 Top ERP software for best practice

SAP S/4HANA Cloud

Oracle ERP Cloud

Microsoft dynamics 365

Sage Intact

Netsuite ERP

Odoo (Open ERP)

ERPNext
Career Opportunities in Enterprise Resource Planning
Know your interest and choose Modules based on your educational background. In the dynamic technology market, it is beneficial to take ERP course training. Some of the core modules which is in-demand are Finance, Accounting, Human Resource, Supply Chain Management, Procurement, Manufacturing, Inventory Management, CRM, Warehouse Management, Project Management, Marketing Automation, Sales, Plant Maintenance, Purchase Management.
There is a need for basic qualifications to get training and Certification in ERP Software. Graduates who have a relevant degree (B.Tech/ B.sc/ B.Com) is preferable for specific modules. It helps to understand business processes. Students and Corporate employees who want to get certification and need to upgrade their skill gaps can join training for best practice.
Still confused on which modules suit you best? Get free career advice from our Educational Consultant
The cost of hiring ERP professionals is much higher than the cost of implementing ERP.

ERP Consultants are among high-paid professionals.

Corporates invest in paying for ERP Consultants as they get high Return On Investment and cost cuts with amplified performance.

There is Demand for ERP consultants in both Product based companies and Service-based companies.
Technology innovations popularized the ERP systems. It enables IoT (Internet of Things) and supports Mobility. Business Intelligence is one of the robust features of ERP, which makes it flexible and user-friendly. The below graphical statistics show that ERP has good growth and development in Future Technology and will be a demanded platform.
Resources: Data taken from netsuite.com – ERP
Learning eases your life Journey. As technology upgrades, it automates the demand for experts to operate the new and latest technology. Learning modern trends in technologies will help your career growth and development. Refresher training will help you get updated on what you have learned years back. IT Profession is not about the certificate. You have to upgrade your soft skills in Good communications, Project management skills, Problem-solving, Team building, Resourceful, Teaching ability and developing others. We provide professional IT software Training to build your Career. Never stop learning!
Want to get IT Software Training in Chennai? Contact us. We provide the best SAP training.